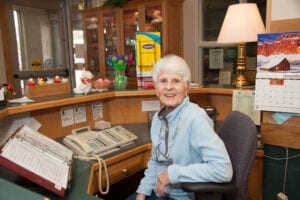 The Auxiliary was founded in 1951. Lois Lee Clark, of Hamilton, served as the first President. She was followed by Ruth Bash and Jean Thurner, also of Hamilton, and Ruth Matthias of Morrisville. And, since the founding of the hospital in 1952, the Auxiliary has raised nearly $1 million for Community Memorial Hospital. These contributions have provided a variety of hospital accessories from x-ray equipment, washers and dryers, wheelchairs, an ice machine and more. More recent donations have provided furniture for physician offices, updated televisions for patient rooms and new diagnostic machines for improved detection of medical conditions.
In addition to running the hospital gift shop, Auxiliary members can be found providing a Boo-Boo Bear for a child requiring hospital services, having an ample supply of magazines and books to help a patient pass the time, keeping the vending machines fully stocked for our visitors seeking refreshments or offering assistance at the reception desk. In short, Auxiliary volunteers take it upon themselves to insure that the "extras" are available for patients and their families. The Auxiliary also hosts welcome receptions for new physicians to enable them to meet community members in an informal setting.
When it comes to raising funds for supporting these initiatives, one of the longest traditions is the Auxiliary Membership Drive – now known as the Auxiliary Appeal, and several annual events:
Volunteer Recognition Luncheon
New volunteers are always welcome!