At Community Memorial, it is our mission to provide essential preventive, primary, behavioral and acute care services based on quality, compassion and respect for the whole person. Caregivers play a vital role as we constantly strive to fulfill our mission. We are inviting you to join us in honoring them for their selfless commitment to improving people's lives.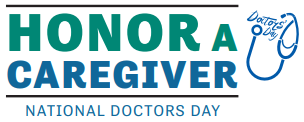 Have you thanked your Medical Professional recently?
At Community Memorial Hospital (CMH), it's our mission to provide the best medical care, based upon high quality, compassion and the respect for the whole person.
While we know our rural community recognizes more than ever the importance of having the CMH team as essential caregivers, we invite area residents to join us in honoring these knowledgeable professionals for their selflessness in improving the health of others.
Please join Community Memorial on March 30 as we celebrate National Doctors' Day, by honoring a medical professional on our team.
Having the best equipment, comfortable treatment spaces and latest technology to provide exceptional care is essential, and we cannot do that without the support of our community. Along with your gift, we encourage you to share your gratitude by enclosing a note of thanks, that we will share with our recognized caregivers.
Thank you for honoring our team of medical professionals by showing your appreciation with a donation, and for making a direct and incredible difference in local healthcare
Providers Recognized by Patients for Doctor's Day 2022:
Your gift can be made below.