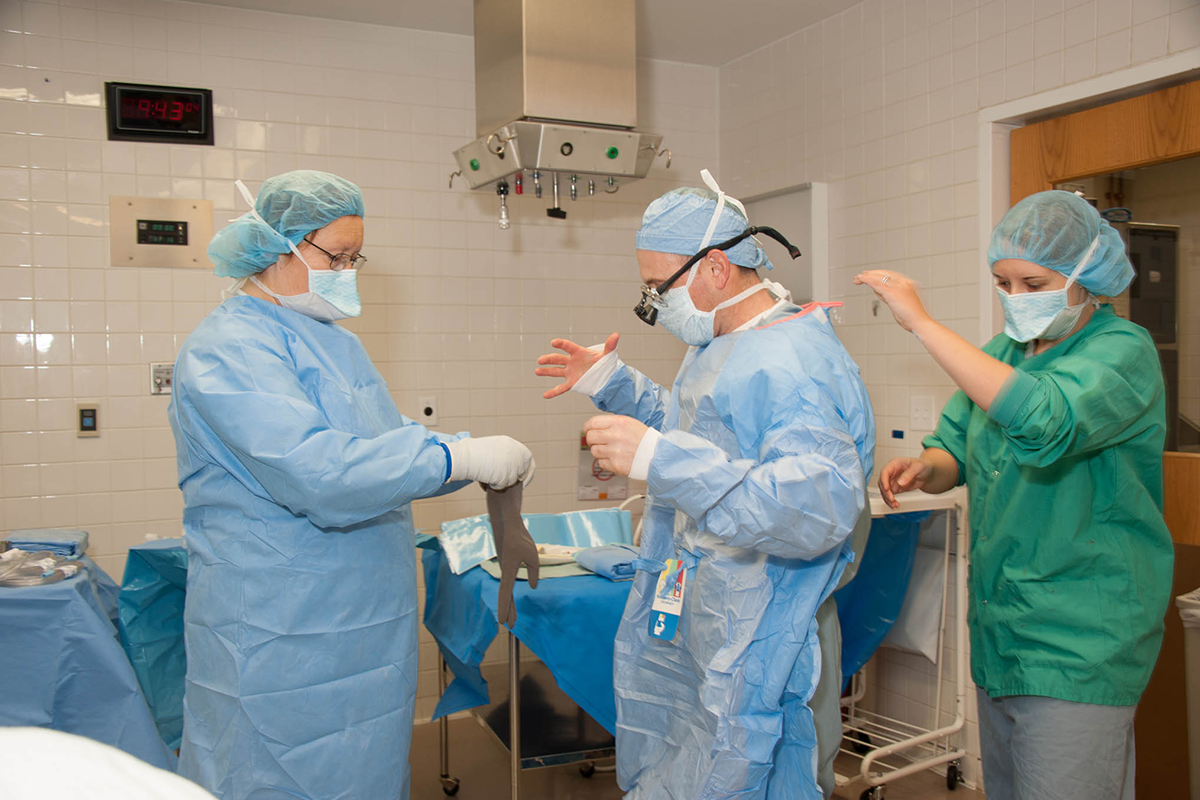 Surgical Services With Proven Results
Community Memorial Hospital is an award-winning leader in general and specialty surgical services – inpatient, outpatient, and ambulatory.
On average, 2,900 surgeries are performed here each year with award-winning*, low surgical infection rate. All four operating rooms at Community Memorial are equipped with laminar flow, a system that reduces ambient bacteria in the air. This technology dramatically cuts the risk of infection following surgery. It provides crucial protection for total joint replacement surgery as well as other operations.
Community Memorial received a Certificate of Excellence for highest overall performance in the combined clinical process and surgical care improvement project measures as part of the 2014 Hospital Performance Incentive Program of Excellus BlueCross BlueShield.
Beyond our four surgical suites, we also have a recovery area, plus a large room for performing diagnostic and minor surgical procedures.
Our Surgical Services Include:
Cholecystectomy (Gallbladder removal)
Community Memorial is the ONLY hospital in the state of New York to achieve one of Healthgrades America's 100 Best Hospitals for Joint Replacement in 2016 AND one of the 100 Best Hospitals for Overall Orthopedics.
Total joint replacements and revisions
Treatment of spine injuries and diseases
Treatment of spine injuries and diseases
Medical technology has made it possible for many surgical patients to enter the hospital, have the procedure and be home all in the same day. Breast biopsies, arthroscopic surgery (especially knees), hernia repairs and carpal tunnel releases are typical of the ambulatory procedures being performed routinely at Community Memorial.
Preparing for surgery? We can help.
Before surgery, joint replacement patients attend a free, comprehensive pre-surgery orientation led by your Community Memorial health care team.
Contact Our Surgery Department
For more information regarding the time of arrival on the day of your surgery, please call the day before between 2:00pm – 4:00pm at (315) 824-6171.
Surgeries Performed at Community Memorial
General Surgery

Gynecologic Surgery

Orthopedic Surgery

Ophthalmology

Urology

Ambulatory Surgery
Preparing for Surgery
Make a list of questions to ask your physician/surgeon regarding the type of surgery recommended.

Determine if the surgical procedure is right for you.

Obtain a second opinion, if desired.

Check with your health plan regarding costs and coverage of the procedure. * Prepare lists of prescription medications, over-the-counter medications, herbal supplements that you take (or have recently taken) for physicians; review with the anesthesiologist and surgeons.

Your physician will arrange for preoperative laboratory tests and an interview with your anesthesiologist.

Follow all instructions during the weeks and days preceding surgery.

Discontinue indicated prescription or over-the-counter medications and herbal supplements prior to surgery, as directed by your surgeon/physician, with the dosages and times you take them.

Arrange for necessary home care, equipment, etc., following surgery (this will be covered in your discharge plan).

Sign all informed consent, and other legal forms, before surgery.

Quit smoking to help in your recovery process.

If you use a CPAP machine for sleeping, ask your provider for your settings so we may use them while you're in the hospital.