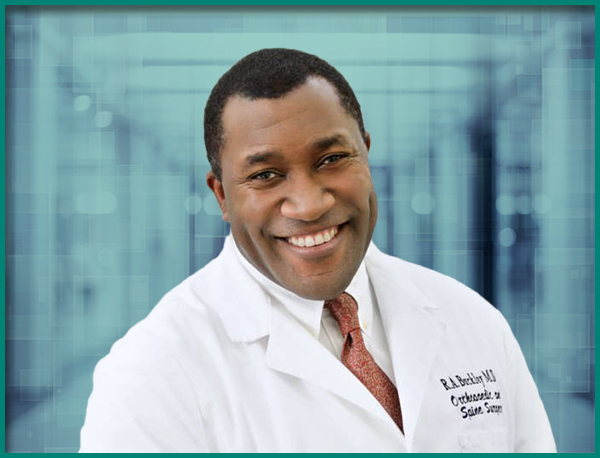 Rudolph Buckley, MD
Spine Surgeon
Location :

Hamilton Orthopaedic Spine & Sports Medicine, 85 College Street, Hamilton, NY 13346
Dr. Buckley specializes in Spine Surgery and is a graduate of Morehouse School of Medicine in Atlanta, Georgia where he earned his MD in 1992. Buckley was 2nd in his Medical School class and graduated Summa Cum Laude. Later, he attended Tulane University School of Medicine in New Orleans, Louisiana where he completed an internship in 1993 and his Orthopaedic residency in 1997. After that, he was accepted for a fellowship in Spinal Reconstruction in Baltimore under the renowned Dr. Paul McAfee, Professor of Spine Surgery at Johns Hopkins University. Since then, Dr. Buckley has been on the forefront of bringing new technological advances to the Central New York area. He has been a party of National FDA studies for lumbar and cervical artificial disc replacements, nucleus pulposus replacement, kyphoplasty procedure for vertebral spinal fractures, and many others. He has also been involved with several leading manufacturers in designing surgical instruments and implants that are now in use nationwide.
Dr. Buckley was born in London, England and moved to Long Island, New York at the age of 12. He is an avid soccer fan and was named All-Area, All-Conference and All-Ohio when he played in University.
When Dr. Buckley is not in the operating room or seeing patients, he enjoys spending time relaxing watching soccer, riding bicycles and working on new technology for the advancement of spine surgery.
Specialty: Spine Surgery
Education:
1984 - 1987: Case Western Reserve University

Member of the Case Western Reserve University Soccer Team.
Member Pi Kappa Alpha Fraternity.

1988 - 1992: Medical School: MoreHouse School of Medicine

Alpha Omega Alpha Honor Society
Voted President of the Society in 1990 and selected as Tutor for Biochemistry, Histology, Anatomy, Physiology and Neuroanatomy Departments.

1992 - 1993: Surgery Internship: Tulane University School Medicine
1993 - 1997: Orthopedic Surgery Residency: Tulane University School Medicine

Irene Thibodeaux Award for outstanding Chief Resident.
Received several awards for teaching Medical Students.

1997 - 1998: Spinal Surgery Fellowship: The Maryland Spinal Reconstructive Surgery Fellowship
1998: Started Professional Career at Slocum-Dickson Medical Group
2000: Member of the North American Spine Society & Board Certified in Orthopaedics
2009: Fellow in the American Academy of Orthopaedic Surgeons & Joined Hamilton Orthopaedics, Spine and Sports Medicine as their first spine surgeon
2011: Board Re-Certified in Orthopaedic Spine Surgery & Board of Advisers at Morehouse School of Medicine, Atlanta, Georgia
2012: Masters in Business Administration, University of Tennessee
2013: Investment Committee, North American Spine Society