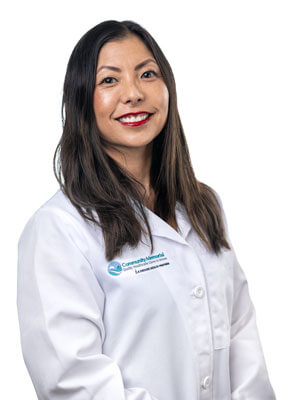 Community Memorial Welcomes Dr. Richelle Takemoto!
Community Memorial (CMH) in Hamilton is pleased to welcome experienced orthopedic surgeon Dr. Richelle Takemoto to its medical staff.  The healthcare network continues to lead the way in orthopedic care in Hamilton and the surrounding region.
Previously with a local orthopedic surgical practice, Takemoto decided to seek out other opportunities to serve the community.  Endeared by Hamilton and the surrounding region and the supportive team of nurses and staff, Takemoto saw the potential to build on the orthopedic legacy at CMH.
"I am very committed to serving the patients of our community and believe that partnering with the hospital will help to better support patient care.  My goal is to provide efficient, high-quality care for our community that will remain in place long after my career.  I am dedicated to providing excellent, quality orthopedic services and working collaboratively with the entire orthopedic surgical team providing services at Community Memorial."
Unfortunately, while Dr. Takemoto was willing and able to complete all her scheduled surgeries, her previous practice chose to cancel all her patients without consulting her.  Thankfully, she will begin seeing patients on Monday, March 13, 2023, at Community Memorial.  Her office will be located at the North end of the campus, near the Colgate Reid Athletic center, providing patients direct access to ancillary services while tending to their orthopedic care.
"We welcome Dr. Takemoto to the CMH family and thank her for the advanced services she has brought to us in the last year," stated Jeff Coakley, President and CEO of Community Memorial.  "We look forward to growing orthopedic services for the community in collaboration with all CMH-affiliated orthopedic surgeons."
Dr. Takemoto is a board-certified orthopedic surgeon who completed fellowship training in Orthopedic Trauma.  She specializes in comprehensive fracture care, post-traumatic reconstruction, and total joint arthroplasty of the shoulder, knee and hip.  In February 2022, after completing extensive training and certification, Dr. Takemoto became the first female surgeon in the world to use the VELYS™ Robotic-Assisted Solution and developed a successful robotic surgery program at CMH.  Dr. Takemoto will continue to expand this service as part of the CMH team.
Dr. Takemoto is originally from Honolulu, Hawaii and is a graduate of the Punahou School.  She earned her undergraduate degree from Bryn Mawr College in 1999 and is a graduate of Temple University School of Medicine, where she earned her MD in 2002.  She completed a residency in orthopedic surgery from NYU Hospital for Joint Diseases in New York City under the tutelage of renowned surgeon Dr. Joseph Zuckerman.  Following her residency, she completed the Altman Fellowship in Orthopedic Trauma at Allegheny General Hospital in Pittsburgh, PA.  Dr. Takemoto is an active member of the Orthopaedic Trauma Association, AO North America and the American Academy of Orthopaedic Surgery.
An avid combat sports fan, Dr. Takemoto is a jiujitsu competitor who has competed at and won the International Brazilian Jiujitsu Federation 2022 World Master Championship in Las Vegas.  She trains at Oneonta's Jiujitsu Academy.  She also enjoys hunting and fishing with her family when she is not in the operating room or seeing patients.  To make an appointment with Dr. Takemoto on the CMH campus in Hamilton or for information, please call 315.824.7040 or visit www.communitymemorial.org/ortho