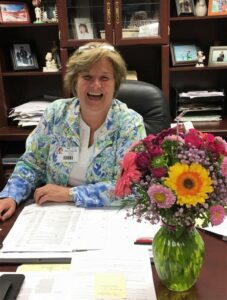 Diane Chase, Chief Nursing Officer and Vice President of Clinical Services at Community Memorial (CMH), announced her retirement after 40 years of nursing; 33 years of those years were served at Community Memorial.
In 1982, Chase began her career as a Respiratory SCU nurse at St. Peter's Hospital in Albany, NY and came to Hamilton in 1989 as a Team Leader in the Medical/Surgical Unit. Over her career, she gained valuable experience in clinical departments such as Emergency Services, Ambulatory Surgery, Special Care Unit, and Outpatient Care. In the fall of 2009, Chase was named Community Memorial's Director of Nursing. She served in this role until 2017 when she became the Senior Director of Clinical Services and served in her most recent role as the healthcare system's Chief Nursing Officer since 2021.
The positive impact Chase has made can be felt inside the hospital and in the community. Chase served on the boards of multiple organizations such as the NYSDOH Opioid Task Force, the NYS Partnership for Patients, and Morrisville State College's Nursing Advisory Board. She also served on Community Memorial's Foundation Board as the foundation's clinical liaison between the hospital.
"Diane has served Community Memorial and the Hamilton community with the utmost skill, dedication, and commitment. She has created a lasting legacy that will be hard to match," said Jeffrey Coakley, President and CEO of Community Memorial. "On behalf of our Hospital Board of Directors and our entire team, I thank her for her service and wish her all the best in her retirement."
In the past 33 years, Chase has been at the bedside of countless patients providing the highest quality of care. "It doesn't matter whether you are doing the most technically complicated thing to save a life or holding a patient's hand in their time of need; perfect strangers are putting their lives in your hands, it is up to us to ease their worries and be strong," said Chase when asked about her nursing career. She mentored dozens of nurses throughout her career, and whether you reported to her or not, her door was always open to all.
In 2018, Community Memorial was awarded five stars in patient satisfaction, the only hospital in New York State to receive the accreditation. Chase notes this as the peak of her career, "I was so proud of CMH and our employees, but seeing the pride across their faces was what made it mean so much more."
Framed on the wall in her office is a letter from CMH's former Director of Foundation, John Hubbard, which reads: 'You are a nurse evermore, whatever else you do, no matter the accomplishments yet to come. Undoubtedly that is the finest tribute of all." It is clear that Chase pays tribute to every nurse on her team in her words and deeds as she leaders them toward their own success.
Chase has been responsible for the oversight and supervision of nursing and other ancillary services in her career. While her passion has always been nursing, she understands the critical role all departments play in the overall success of a healthcare system and a patients' experience. Pharmacy, Respiratory Therapy, Radiology, Physical Therapy, Lab, Infection Control, Clinical IT, Dietary and Environmental Services have all benefitted from the guidance of Chase.
If she could leave everyone with one quote or piece of advice that has gotten her through her extensive career, it would be: "No matter who we are, no matter how successful, no matter what our situation is, compassion is something we all need to receive and give" by Catherine Pulsifer. Chase noted that providing compassionate, quality care to her patients, operating with character and integrity, and earning the respect of those she supervised has always been the most important thing.