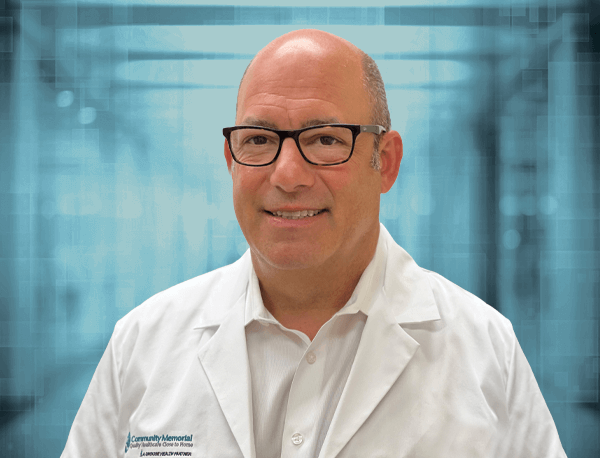 General Surgery Services at CMH, Grows!
The Community Memorial (CMH) healthcare system is excited to welcome Gregory Ripich, MD, who joins the organization's surgery team as a General Surgeon.
Dr. Ripich joins Dr. Martin Ernits in the General Surgery Program at CMH; this addition provides the community with a greater scope of care and allows CMH to care for a greater volume of patients.  Ripich will perform elective procedures and surgeries, specializing in various surgeries such as colon/rectal, breast, thyroid, skin and wound.  Dr. Martin will continue to perform emergent surgeries and collaborate with onsite hospitalists.
Ripich has started seeing patients in the CMH Family Health Centers of Hamilton and Cazenovia.  "The Community Memorial team is excited to bring Dr. Ripich on board.  He brings a broad range of skills and experience to our patients," commented Dr. Michael Walsh, Chief Medical Officer.  "With his focus on a specialty covering various medical issues, we're confident that patients will be pleased with the care offered here in Hamilton."
Ripich performed his postgraduate training at St. Joseph Mercy Hospital in Michigan after receiving his Doctorate in Medicine from SUNY-Health Science Center at Syracuse.  Prior to this, he studied at the University of Buffalo, receiving his Master of Science degree.  Ripich attended Cornell University for his undergraduate degree, obtaining his Bachelor's degree in Neurobiology.  His extensive career has defined his surgical interest and experience in advanced minimally invasive surgery and endoscopic procedures.  He most recently served as the Medical Director for Surgical Associates of CMA in Ithaca, NY.
"Dr. Ripich brings experience and a wealth of knowledge from larger health systems that will allow patients to receive care right here in Hamilton," noted Jeff Coakley, President and CEO.  "CMH is excited for the future of General Surgery in Hamilton.  We encourage patients to utilize the expanded services offered here."
"I'm looking forward to joining Community Memorial and establishing patient care," stated Dr. Ripich. "I enjoy working with new hospitals and communities, helping them to grow their general surgery programs with new techniques and ideas." To learn more about the services, medical staff and more offered at CMH, or to make an appointment, please call (315)648-6408 or visit www.communitymemorial.org/