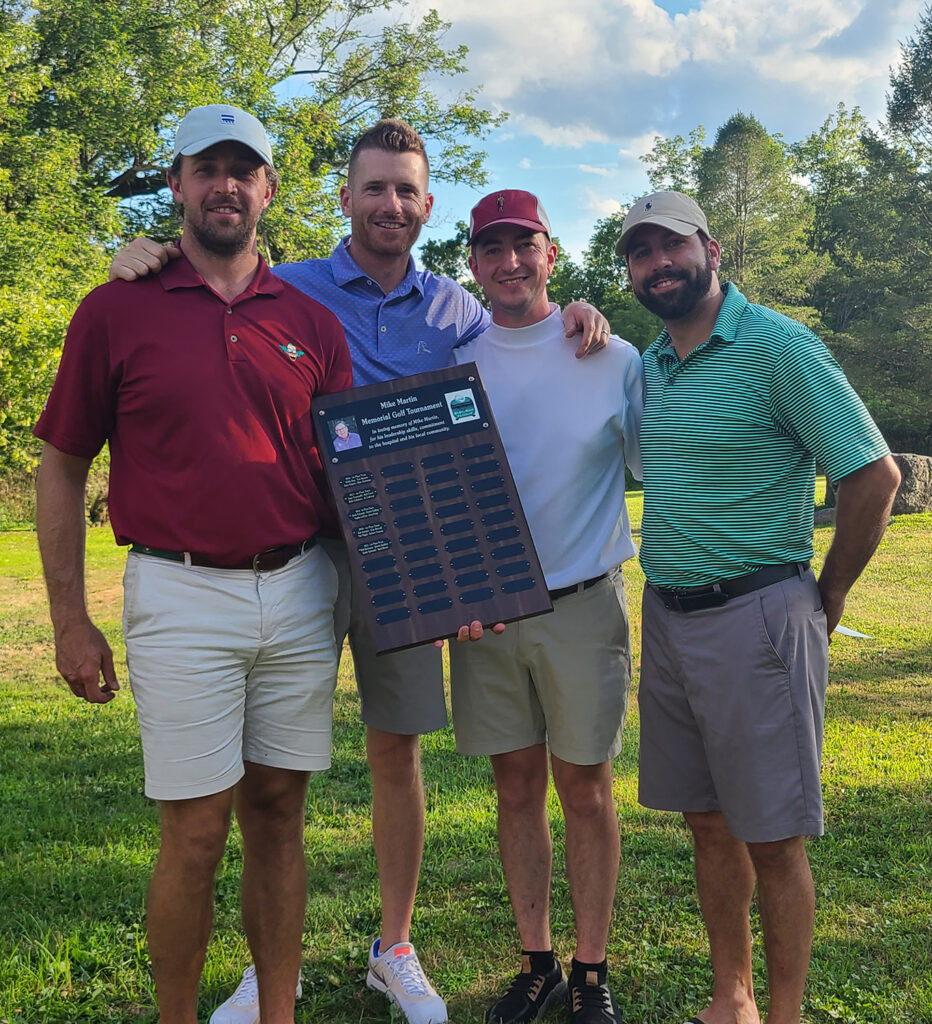 Mike Martin Memorial Golf Tournament Another Success for Community Memorial
The Community Memorial Foundation hosted the 6th annual Mike Martin Memorial Golf Tournament to benefit Community Memorial Hospital (CMH) on Monday, August 1, 2022.  The proceeds from the competition and supporting sponsors will go towards the capital project currently underway at Community Memorial Hospital,  already working on renovating and expanding the facility as the organization celebrates its 70th anniversary.
One hundred twenty-eight golfers attended the event, hosted at the beautiful and challenging Seven Oaks Golf Course of Colgate University in Hamilton.  This event was named to remember a long-time and dedicated volunteer, Mike Martin, who was sadly lost to the community in October 2016.  Deeply committed to the Hamilton area, Martin served on the board of the Community Memorial Foundation and chaired the tournament in its very successful inaugural year.  The tournament recognizes his leadership skills, commitment to the hospital and the local community, and wonderful personality.  He served on several local committees spearheading economic initiatives and actively volunteered for Colgate University as trustee and President of the Alumni Council.  Martin is a 1964 graduate of Rome Free Academy and Colgate University class of 1969.
The sun was out all day with typical warm August golf weather, and after a brief welcome at noon, the players tee'd off.  After the golfers completed their game, an awards dinner was hosted at the Hamilton Inn on Lake Moraine Road.  Four teams were recognized: 1st place went to Team Keith Tyburski; 2nd went to Team Ron Joyce; 3rd was awarded to Team Chris DeAngelis, and 13th went to Team Dan Poupore.
"We had a fantastic time playing in the Community Memorial golf outing at Seven Oaks.  It was a wonderful day with great golf and food in a perfect setting," remarked Gary Weeks, event participant.  "Our group was grateful to Susie Gustafson Real Estate for asking us to play in her sponsored foursome.  My brother and two former colleagues loved playing the course and everything else that went with the day.  Congratulations to the Community Memorial staff on a first-rate event!"
The event raised almost $100,000 in its 6th year and was supported by The Hayner Hoyt Corporation as Tournament Sponsor and SCP Health as Presenting.  For a complete list of the event sponsors, along with event photos, please visit https://communitymemorial.org/foundation/golf-tournament/.  The transformational project of CMH has already successfully completed the inpatient wing with private patient rooms, along with a new and expanded Emergency Room, the largest capital project since its inception in 1952.  To learn more about the project details or to support, please visit https://communitymemorial.org/foundation/capital-campaign/.